Permalink
I've always loved waterproof mascara because they manage to keep my stubborn lashes curled but I have to say that this mascara unfortunately failed in that department.
Let's share notes now.
Advantages:
Cheap!
When I say cheap I mean super cheap for a regular priced mascara. I got this for $4.99 and that was its regular price! Imagine if it went on sale.
Lengthens.
I find this helps lengthen my lashes a lot which is great for Asian eyes!
Clump free.
Regardless of the many coats this mascara does not clump and really does separate my lashes.
Waterproof.
Last, but certainly not least this mascara is definitely waterproof. It has lasted through the times my eyes felt like they were on fire from allergies, and I used it when I went to a pool party.
Does not flake.
I don't think it flakes since barely anything shows up when I apply the mascara, but hey if you're going for the natural look then this mascara is great for you!
Disadvantages:
Colourless.
I always pick up the darkest shade and good thing I did because this "extreme" black barely shows up. I honestly have to wear another mascara on top of this if I want my lashes to make an appearance.
Does not hold curls.
My lashes drop almost instantly after applying this mascara. Even though it lengthens no one can see it.
Definitely not volumizing.
Like I said before it lengthens, but this mascara certainly does not volumize them.
Overall I have realized the mascara quality is what I would expect from the price I paid, but I would definitely not purchase this mascara again regardless of the cheap price since I either have to re-curl my lashes or apply another mascara on top. If you have naturally curly lashes and want something waterproof then feel free to pick this up, but if you have straight lashes like mine then you're better off purchasing something else.
After 1 coat: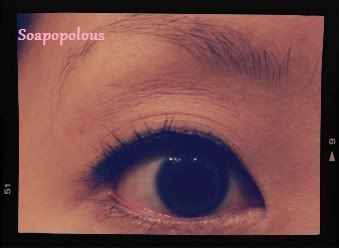 After a few minutes: